Case Study:
Jill Soda
product development, brand strategy, creative direction and design
The following case study represents the work I did with
Etion Vodka
for a pitch to
St. Killian Importing
, a full-service importer, providing the United States with world-class beers and malt beverages from around the globe.
The client:
Etion Vodka
Etion Vodka is an ultra-premium, five-times distilled vodka infused with fifteen Mediterranean herbs. The brand is produced in Spain and aims to achieve a quality and taste unlike any other vodka. The spirit is primarily sold to high-end restaurants as an exceptional base for signature cocktails.

After a couple years on the market, Etion noticed an acceleration toward ready-to-drink (RTD) beverages. They brought me on as a partner to create our own brand of RTDs using Etion as the foundational ingredient.
We refined our objective, reviewed our foundation and explored questions about the market, the demographics of the existing consumer base and the demographics of a possible new consumer base. We also did a deep-dive into brand storytelling.
Jill Soda
Jill Soda is a unique, high-quality, low-alcohol, health-conscious, ready-to-drink cocktail focused on the female consumer. The flavor profiles would be fresh and smart, and pop with Etion Vodka's herbal-infused base spirit.
Aesthetic
I aimed for an aesthetic that incorporated a collage of new and retro ideas—something that spoke to youth and maturity simultaneously. It was also imperative to create something original and quirky that would cut through existing trends in the market. With this in mind, the overall aesthetic was valued higher than communicating specific flavors. The goal was to create something offbeat and fashionable that would pop on social media and stand out at social events.
Color Story
As children of the '80s/'90s, our market was deeply influenced by tactile objects and aesthetics produced with limited technology. Things like pens and toys made from materials with textures and scents created experiences and physical memories that helped form the collective aesthetic values of millennials. As millennials age, nostalgia for their youth may be tapping into an aspiration to feel more grounded in this time of intense change.

Using retro aesthetics in the brand design isn't just a playful nod to youth, it may be confronting our market with questions about who they want to become and how they want to live their lives, a principal at the core of our health-conscious product development.


Typography
I am extremely inspired by the way type foundries are mixing old and new ideas together to create unexpected digital-focused fonts. I explored a variety of weights and styles before deciding on Mohol, by
Hungarumlaut
. The partially barred J reminded me of old VCRs and video tape covers, while the high-contrast bowls and angular, cropped caps felt really modern and quirky. I paired it with a lesser-quality free script font called Laser Plain because the aesthetic felt right and I appreciated the high-low combination.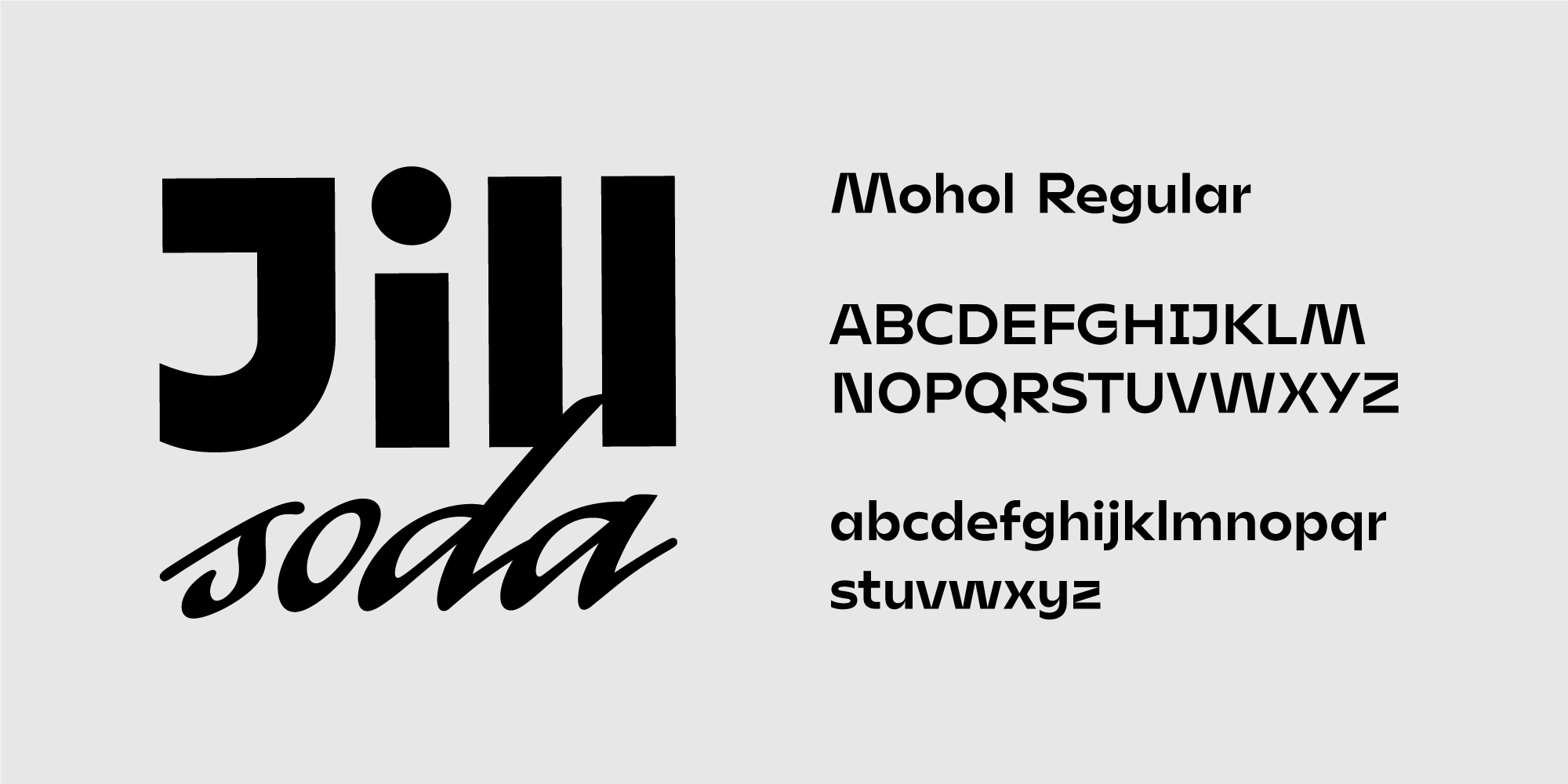 Naming and Stortelling:
Will Jill be at the party?
Jill was one of the most popular baby names in the '80s and '90s in the United States. It's like Jane: short, strong, cool, a little badass. If you're an American millennial, you probably knew a Jill growing up. Personifying the brand was a way to make it social, conversational and familiar. Giving it a millennial name maybe makes it your friend--a friend whose values you share, a friend you want to hang out with on the weekends.


So, who's Jill?


Jill's your peer, your friend. She grew up with older siblings and was always a little socially ahead of everyone in school. She's active and cycles and hikes on the weekends to unwind from her job in the city. She studied journalism and works for a magazine, which is great because she invites you to awesome events and you always have interesting conversations. Jill is focused, works hard and has healthy habits. Jill loves music and enjoys going out, but she's always down to come to your place, throw on a record and hangout with your friends and family. She's funny and smart and introduces you to new things. She likes to have fun, but she never pressures you into too much. Jill's your favorite person at any social gathering.

Conclusion
Jill Soda would be a high-quality, low-alcohol, health-conscious product extension of Etion Vodka, rebranded, uniquely marketed and operated as a separate product line tailored to the aging millennial market.
︎